Tree Trimming - Power Line Safety
Look Up and Live! Your life is on the line, be aware of overhead power lines when trimming trees.
Never trim trees near electric lines!
Tree limbs or other vegetation that grow on utility poles and into power lines can cause fires, power outages, and damage your equipment or property. To increase safety and minimize outages, we routinely trim tree limbs and vines around our poles and lines.
Please take some time to assess the trees on your property that may be growing under or into power lines. If you believe that your tree is at risk of, or is in contact with the power lines, please contact 210-353-2222 or use our Residential Service Request Form.to report the potential issue.
Our vegetation management program addresses emergency, general, and planned tree trimming.
Information on which lines are managed by CPS Energy can be seen in this English or Spanish infographic.
Maintaining tree clearances from our infrastructure can greatly reduce an inconvenient power outage during storms.
CPS Energy follows a rigorous vegetation management schedule. Unfortunately, there are several factors that can result in schedule delays. These include severe weather and customer requests for off-schedule tree trimming.
CPS Energy contractors follow proper tree-trimming procedures. The intent is to maintain sufficient clearance from our infrastructure while at the same time not damaging the tree.
Who can trim trees away from high voltage power lines? Only tree-trimming companies that have met OSHA qualifications may trim trees away from high voltage power lines. These tree-trimming professionals should comply with all applicable safety regulations and take appropriate precautions.
In 2021, we had 1675 events with 67,944 customers affected by tree related outages.
A customer can trim their own trees if the trees interfere with the service line, which is the electric line from a utility pole to the home. We ask that the customer call us 5 business days before tree-trimming work is to begin so that we can temporarily remove the service line to allow safe trimming.
Our crews will make a visual inspection of our poles and lines for each request to determine if tree trimming is warranted.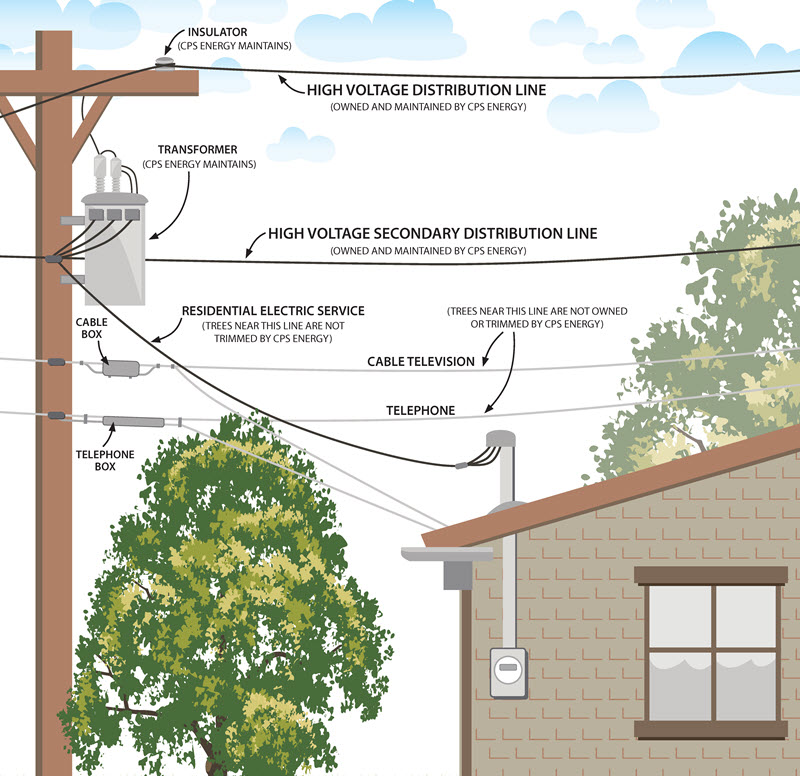 Planting a tree?
Before you plant a tree, we recommend you check to see if power lines are above or near the location. If your tree is a broadly spreading or a tall-growing variety, we encourage you to select another location.
Follow these tree-planting guidelines to ensure your tree and nearby power lines will be safe:
Small Zone - Within 20 feet of power lines
Plant trees with a mature height of 15 to 20 feet
Medium Zone - Between 20 feet and 30 feet of power lines
Plant trees with a mature height of 20 to 40 feet
Tall Zone - 30 feet or more from power lines
Plant trees growing 40 or taller, or with a broadly spreading crown
Right tree, right place: Learn which trees are acceptable to be planted underneath power lines.
Always call 811 before you dig.
Here are some helpful tips for working near electric lines.
Ladders:
Check for overhead electric lines, keep yourself and any equipment at least 10 feet between you and the line.
Use only a dry fiberglass or wooden ladder, never a metal ladder.
Be sure to use double-insulated or properly grounded electrical tools.
Verify that your ladder complies with specifications of the American National Standards Institute (ANSI) and that it is listed by Underwriters Laboratories (UL).
For safety programs call 210-353-3939 
Kites:
Fly kites in open areas and away from electricity poles, overhead power lines, trees and other obstacles.
Kite lines conduct electricity, do not fly near overhead power lines.
If a kite gets caught in overhead power lines, release the string at once. Do not pull the string or climb the pole.
Only fly kites in dry weather. Never fly a kite during electrical storm.
Only use kites made of wood or plastic, never metal or mylar. Only use cloth for the tails.
NEVER attempt to retrieve any kite caught in electric equipment. Instead, call 210-353-HELP (4357).