You're flexible. So are we!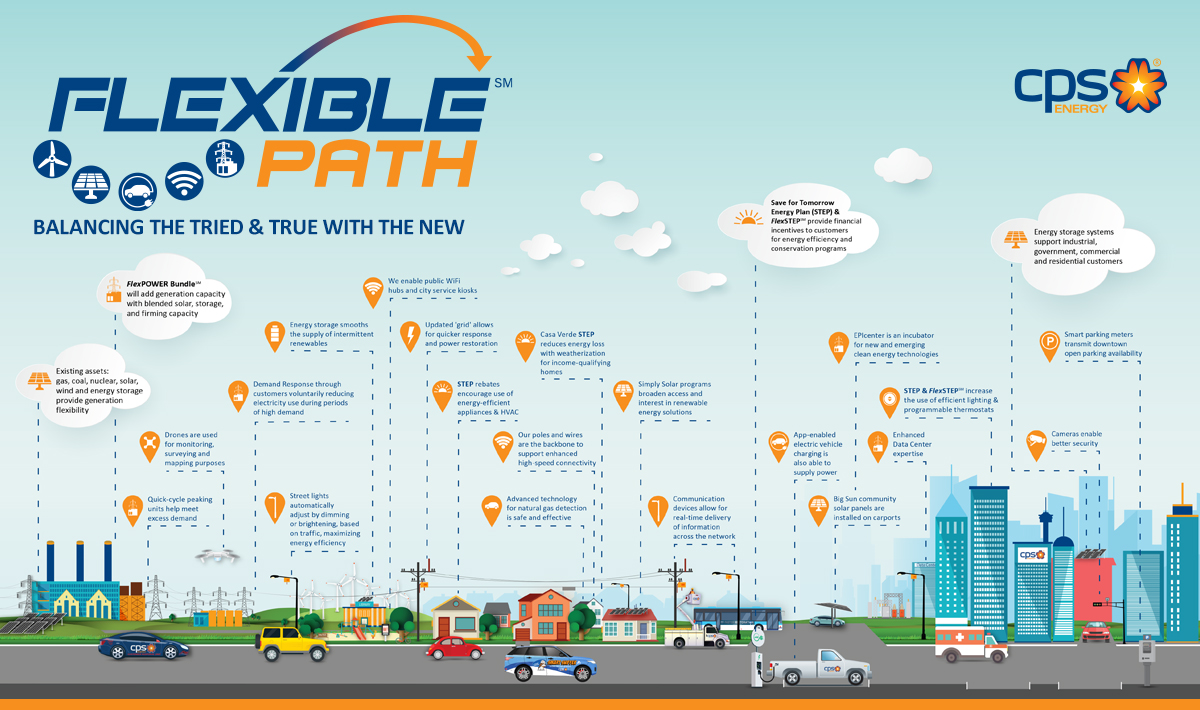 Members of the public do not have to attend a Board Meeting or Public Input Session to communicate with the Board or with CPS Energy.  There are several different communication channels:
Email:  

[email protected]

By phone:  210-353-2222
By mail: CPS Energy ATTN: PUBLIC INPUT
500 McCullough, San Antonio, Texas 78215
POWERING OUR COMMUNITY'S FUTURE:
We want to hear from you about Powering Our Community's Future.  Learn more and take our survey at cpsenergy.com/pathforward.
ROOTED IN A STABLE FOUNDATION:
Our core business initiative is to responsibly manage a diverse and dynamic power generation portfolio. Over the years, as new technologies have emerged, we have positioned ourself and our community to benefit from those new technologies while providing our customers with reliable, safe, secure and resilient services.
COMMITTED TO OUR GOALS. FLEXIBLE IN OUR METHODS.
As we build our path for the future, we understand that we need to stay flexible to continuously meet the needs of our community. 
Our goals include:
Close two older coal plants (Deely) in 2018 - GOAL ACCOMPLISHED 
Position to integrate new and emerging technologies like battery storage and electric vehicles
Continue to expand our solar and wind resources
Add more programs and services like energy efficiency and demand response
Years ago we started the process to reduce our coal and gas use and increase our renewables. By 2040, we are predicting even larger decreases in older technologies and exponentially larger increases in newer and cleaner technologies.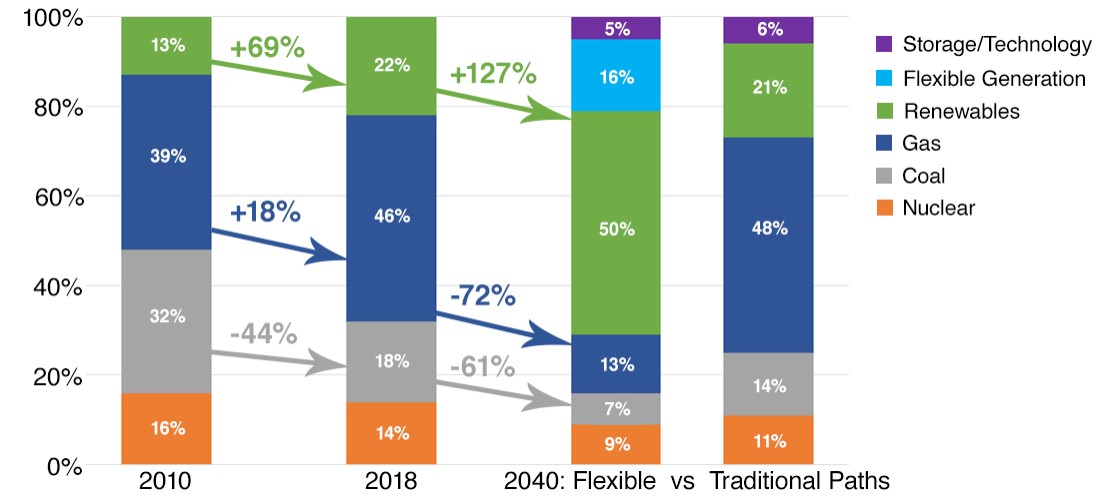 INCREASES IN RENEWABLES GENERATION AND DECREASES IN COAL AND GAS
Our generation mix has changed considerably since 2010. The positive trends will accelerate with our Flexible Path into 2040. 
Renewables increased 69% from 2010 to 2018 and will increase an additional 127% under Flexible Path
Gas increased 18% from 2010 to 2018 and will decrease 72% under Flexible Path
Coal decreased 44% from 2010 to 2018 and will decrease another 61% under Flexible Path
FLEXIBLE & ADAPTABLE PATH TO A BRIGHTER, CLEANER FUTURE
Our Flexible Path will update as technology and solutions emerge. Under this Flexible Path we want to make sure that we:
Are flexible and adaptable
Will incorporate stakeholder feedback
Will provide cost-effective energy options to our customers
Deliver value
Are committed to a healthy community
KEY TAKEAWAYS
Strategic and operational flexibility will allow us to remain successful as we move forward. 
A diverse generation portfolio provides value and reliability to our customers
Our focus on the environment and improving air quality for our community is a top priority
Our traditional generation assets continue to be an important bridge to the future to ensure value and reliability to our customers
This Flexible Path strategy positions us with the ability to embrace the changing utility landscape
We continue to invest in smart grid to support reliability, efficiency and energy management tools for our customers