We work hard every day to make sure power is available 24 hours a day, 7 days a week, 365 days a year. Thunderstorms, vehicle accidents and damaged trees tend to be the most common causes of outages in our service area. But there are a number of reasons your power may be interrupted.
Thanks to our dedicated crews, the average time for service restoration for our customers is about an hour. Our service reliability ranks in the top 10 percent of utilities across the country.
Thunderstorms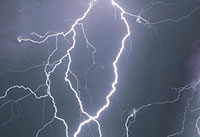 The combination of rain, lightning and wind can cause multiple challenges to reliable power. Heavy rain may result in flooding, which can damage above-ground electrical equipment. Strong winds may cause power lines to contact tree limbs or other power lines. Lightning can strike transformers, utility poles, high lines or other equipment. All may result in a power outage.
Wildlife
Squirrels, birds or other animals often come in contact with power lines, fuses and other equipment, causing the power to shut down (a fault in a circuit) to protect the rest of the system.
Vehicle Accidents
Damage to buried cable or overhead lines (e.g. from shovels, heavy equipment, etc.) can interrupt service reliability to our customers.
Equipment Failure
A lot of equipment makes up the system that provides electricity to customers. Electrical equipment, just like any other piece of equipment, can sometimes fail due to age, performance or other factors.
Balloons and Kites
When these items come into contact with overhead electric lines, they can cause a circuit to trip, resulting in power outages.
Hot Weather
Excessive temperatures can put stress on service equipment resulting in outages.
Drizzle
Outages can occur when light rain turns dirt (built up on the power lines) to sludge. This sludge can form a connection between the wire and pole, resulting in a power outage.
Planned Outages
We work everyday on upgrading our equipment in order to maintain reliable service. In most cases, electricity needs to be turned off so that the work can be done as safely as possible. For planned outages, we make every effort to inform customers that their electric power will be interrupted.
Rolling Outages
The Electric Reliability Council of Texas (ERCOT) manages the flow of electric power to 24 million Texas customers. Rolling outages can occur whenever the demand for electricity in the state is greater than the supply. When this happens, CPS Energy is given a directive by ERCOT to reduce electric consumption by implementing forced outages to customers in its service territory. Once the requested amount of load reduction is achieved, outages will then roll throughout the city until ERCOT has lifted its directive. By rolling outages, the goal is to minimize the amount of time each customer is affected. Usually, before any rolling outages are implemented, CPS Energy and other utilities will ask their customers to voluntarily conserve energy to reduce the amount of electrical demand statewide.
CPS Energy Alerts - The next time your power goes out, expect an email, phone call or text from CPS Energy letting you know when your power is expected to be restored.