Call 811 Before You Dig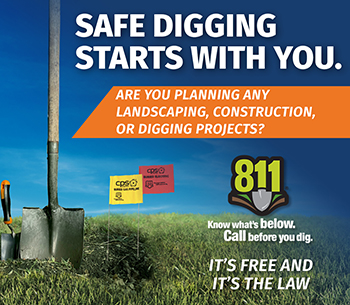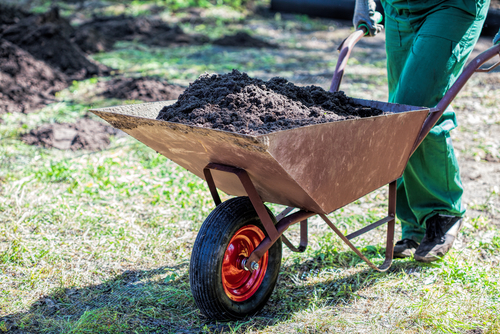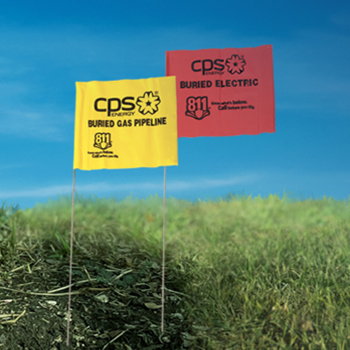 SAFE DIGGING STARTS WITH YOU!
Know What's Below. Call 811 Before You Dig.
Whether you're a homeowner with a green thumb, a contractor, or a weekend DIY enthusiast, calling 811 or making a request online at texas811.org is a crucial step to ensure your safety. Underground utility lines, such as gas, electric, water, and communication cables, are hidden below the surface. More than 1/3 of the gas pipeline damages in San Antonio are caused by people who did not contact 811. By making a call or request online, you can avoid potential hazards, prevent costly repairs, and protect yourself and your community.

It's Free and It's The Law
Contact 811 - Dial 811 or request online at texas811.org two-business days before any digging project.
Wait - Wait two business days for the utility companies to mark the work area.
Confirm - Confirm utility companies have responded by comparing markings to utilities listed on the 811 ticket, or by receiving a phone call, email, or fax confirming the locate work is complete.
Respect - Respect and replace the markings provided by the utility companies if they are moved. These markings are your guide for the duration of the project.
Carefully Dig - It is the responsibility of the person digging to avoid damaging marked lines.
Homeowners: Individuals who own or rent properties and may require digging or excavation for various purposes, such as landscaping, home improvement projects, or installations.
Contractors & Construction Companies: Professionals engaged in construction, renovation, or infrastructure projects that involve excavation activities.
Each excavator is responsible for calling in their own utility locate request. DO NOT work off another excavator's locate request. 
Texas law requires you (or your contractor) to make a request no less than 48 hours (2 working days – excluding weekends/holidays) before digging.
There is no cost for this service. 
Your name
Address
Phone number
Fax number
E-mail address
Date and start time

Project description
Duration of project
Location of project
Reason for digging
American Public Works Association (APWA) Uniform Color CODE for Marking Underground Utility Lines
Red – Electrical Power Lines, Cables, Conduit, and Lighting Cables
Yellow – Gas, Oil, Steam, Petroleum or Gaseous Materials
Orange – Communications, Alarm or Signal Lines, Cables, or Conduit
Blue – Potable Water
Purple – Reclaimed water, Irrigation, and Slurry lines
Green – Sewer and Drain Lines
Pink – Temporary Survey Markings
White – Proposed Excavation
Disturbances during a digging or construction project are the leading cause of outside natural gas line damage. If a natural gas pipeline is nicked, scraped, or dented, it is crucial to take immediate action by calling 911 and CPS Energy at (210) 353-4357 (HELP). Even seemingly minor damages can compromise the integrity of the pipeline and lead to a future pipeline issue.
USE YOUR SENSES TO DETECT A NATURAL GAS LEAK
SIGHT – dense fog, mist or white cloud, discolored vegetation, bubbling in water or blowing in dust.
SMELL – distinctive gaseous odor is added to natural gas to make it easier to detect.
SOUND – hissing, whistling, or roaring noise.
The strong smell of rotten eggs may indicate a natural gas line is damaged. The chemical mercaptan is added to natural gas to produce this smell. Damaged natural gas pipelines are dangerous. Memorize the safety rules below to protect yourself in the event a gas pipeline is damaged.
DO NOT:
Operate anything electrical or light a flame
Turn on or off the lights
Use a cell phone or telephone
Turn on or off any electronic device
Turn on or off a flashlight
Attempt to shut on or off a natural gas valve
Smoke, use a lighter, or strike a match
Open an automatic garage door
Start or stop a nearby vehicle or machinery
DO:
Exit the building immediately
Leave the door open on the way out
Leave the area immediately if you're outside
Go to another place and call 911 CPS Energy at (210) 353-4357 (HELP)
Stay away until someone from the fire department, gas company, or emergency agency says it's safe to return