Energy Conservation Levels
JOIN OUR COMMUNITY TO CONSERVE ENERGY AND SAVE MONEY WHEN DEMAND FOR ENERGY IS HIGHEST.
CPS Energy developed color-coded Energy Conservation Levels to help customers use simple tips to conserve energy and control their energy use. The conservation levels align with the anticipated daily demand for energy. Most days are Green Days and call for everyday conservation. If more conservation is needed during peak energy demand, we will declare a Yellow Day and ask the community to conserve more during certain hours. If ERCOT, the statewide grid manager, declares grid reliability is at risk, we will issue an Orange or Red Alert.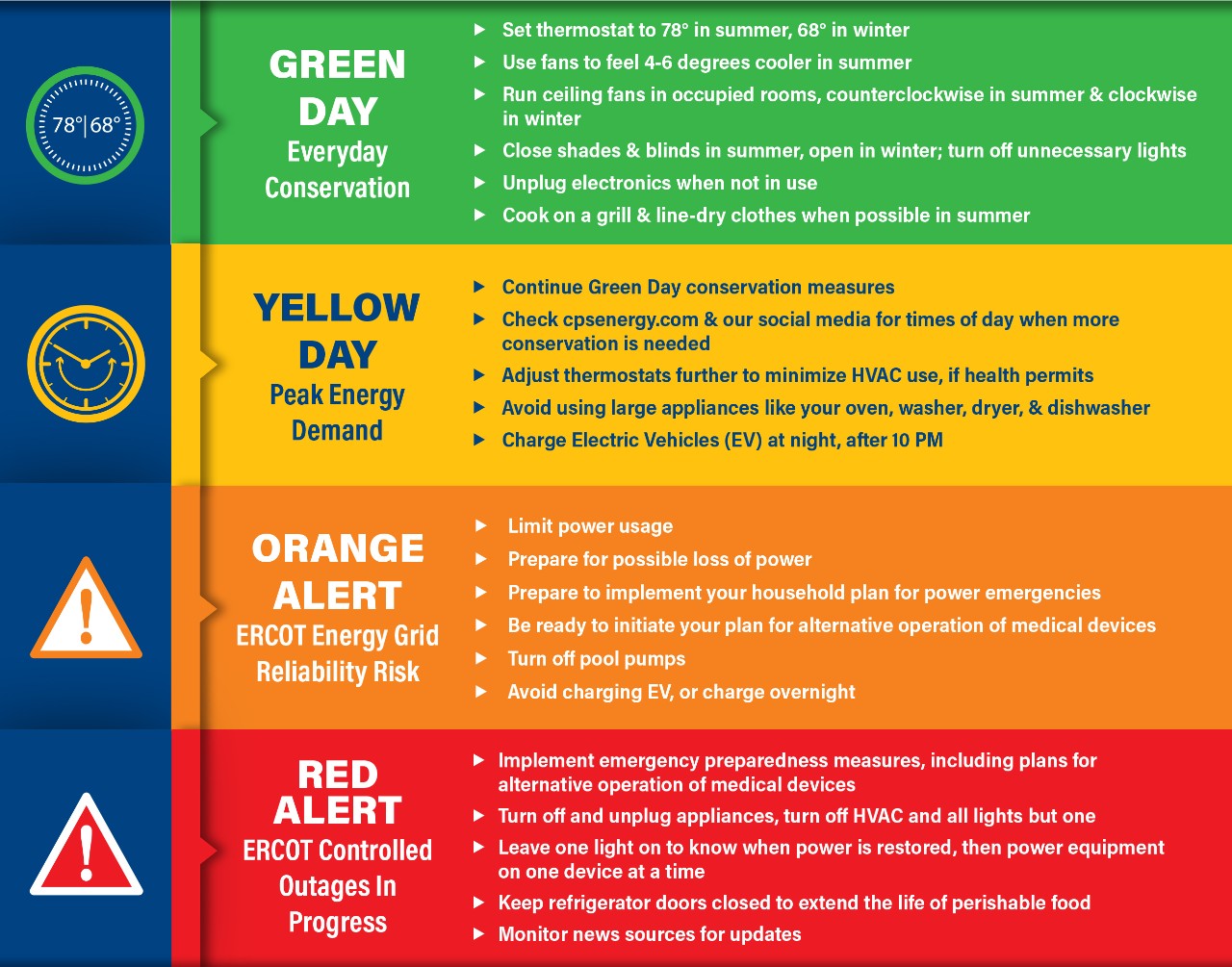 Electric Reliability Council of Texas (ERCOT) manages the flow of electric power for more than 26 million customers in Texas.
TXANS (ercot.com) - A communications tool that delivers clear and reliable information on ERCOT grid conditions.
Track statewide electricity demand at ERCOT.com and view daily peak demand forecast, current load, and available generation.
Sign up for the ERCOT mobile app (available for download at the Apple App Store and Google Play).
Follow ERCOT on X (formerly Twitter) (@ERCOT_ISO) and Facebook (Electric Reliability Council of Texas).
Don't wait for an emergency or power outage, make a family emergency plan now. If you have medical equipment that requires electricity or medicines that need refrigeration, check with your doctor when making your plan. Assemble a power outage emergency kit. Follow us on Facebook, Nextdoor, X (formerly Twitter), and our Newsroom for updates during outages and emergencies. Visit cpsenergy.com/prepare.