2022 Review of Customer Construction Costs
CPS Energy is a community asset that is committed to delivering quality and value to our customers.  As we grow this community together, we are working hard to keep costs down in every way we can. 
Our community has seen unprecedented growth over the past few years.  Added to that is the rapidly increasing cost for construction and labor due to both inflation over the years.  Construction costs have risen about 50% or more since 2012 (see Figure 1).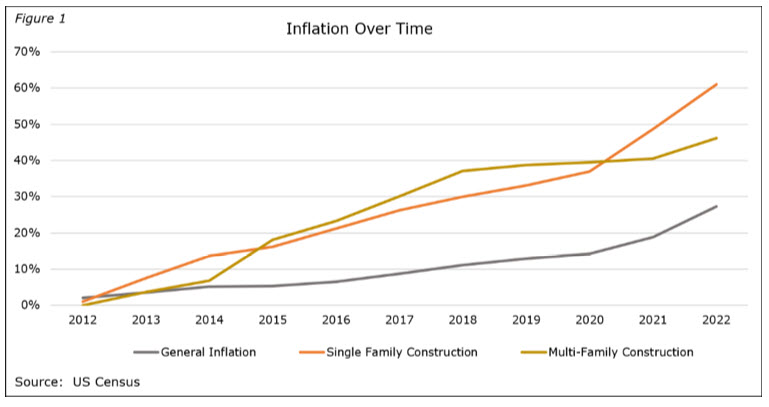 CPS Energy has mostly held flat the customers' cost for their construction improvements and additions to the electric and natural gas systems, also known as Contribution in Aid of Construction or CIAC ("Kay-ak").  The basis of our labor and associated cost has not increased since about 2012.  These economic facts and the need to ensure that customers are appropriately investing in that infrastructure have created a need for CPS Energy to adjust their cost. 
To that end, CPS Energy will be implementing a 5-phase approach to bring the cost of customer construction up-to-date with 2022 actual costs. These increases will apply only to CIAC invoices generated and delivered to customers after the update has been implemented.
We will be implementing updates effective December 1, 2022.  We anticipate the increase from this first step of the phased approach to average about 10-12% of your construction cost.
The first increase will also include the Service & Meter connections to homesites.  These smaller projects average about $650 per site and follow a different process to help expedite their connections. Due to this different process, these projects will have a different overall implementation timeline as shown in the chart on the right in Figure 2. 

Because each project is different and requires different materials and labor needs, increases will vary by project.  See Figure 2 for an example of the estimated increases and timeframe of future increases.

We will continue to share information as we work to bring our customer construction costs into alignment with current cost for this construction.
We will be holding two WebEx sessions for customers to learn more and ask questions.  If you would like to join one of these video conference sessions, please respond to [email protected] with the date of the session you would like to join.  We will send you the meeting invite with the meeting login information.

We know that cost increases are an unwelcome but necessary part of doing business.  We will continue to do all we can to manage cost while still meeting the needs of our growing community.