Who We Are
Building history with San Antonio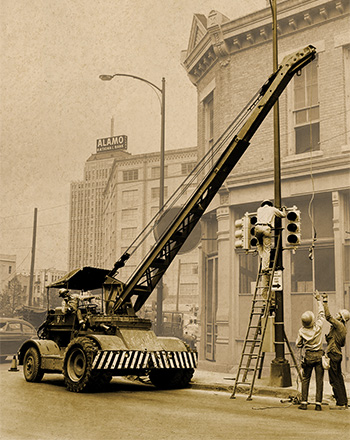 Established in 1860, CPS Energy is the nation's largest community-owned provider of electric and natural gas services.  We provide safe, reliable, and competitively priced services to 930,114 electric and 381,379 natural gas customers in San Antonio and portions of seven adjoining counties. 
Our customers' combined energy bills rank among the lowest of the nation's 20 largest cities while generating $9 billion in revenue for the City of San Antonio over the last 80 years. Our Vision 2027 strategic plan is designed to guide CPS Energy through rapid transformational change in our city.  As a trusted and reliable community partner, we continuously focus on job creation, economic development, and educational investment. 
We are powered by our skilled workforce, whose commitment to the community is demonstrated through our employees' volunteerism, our community engagement efforts, and programs aimed at bringing value and assistance to our customers.
Some highlights of our history:
1860 - The city's first light bulb, in front of the post office in Alamo Plaza, brought San Antonio into the modern era six months before Thomas Edison opened his first New York City generating plant.
1942 – The City of San Antonio municipal government acquires the former San Antonio Public Service Company, later to be named City Public Service before becoming CPS Energy.
1950s – A commitment to innovation leads to the introduction of customer service by phone and the downtown area's first streetlight system.
1960s – CPS Energy contributes infrastructure and power to many of San Antonio's most famous attractions, including Natural Bridge Caverns.
1970s – CPS Energy joins other Texas utilities on a jointly owned nuclear power project (today known as the South Texas Project). The opening of the new Deely plant, in the midst of the energy crisis, boosts production and saves ratepayers $125,000 in fuel costs.
1980s – The introduction of Project WARM kicks off fundraising efforts to help families in need pay winter utility bills.
1990s – New J.K. Spruce coal-fired power plant is built with more than $100 million worth of environmental regulation systems.
2010 – One of the nation's cleanest coal units, J.K. Spruce 2, begins operation with more than $250 million of the best available emissions-control equipment.
2012 – Rio Nogales, a combined-cycle natural gas plant in Seguin, is acquired as part of strategic plan to increase low carbon fuels, and to proactively save half-a-billion dollars by not investing in Deely, the oldest coal-fired unit.
2017 – CPS Energy celebrated 75 years of being owned by the City of San Antonio. October 24, 1942, marks the day that every citizen of San Antonio became the investors and direct benefactors of CPS Energy. The original purchase price was $34 million and the return on our community's investment has been $7 billion and reliable and affordable power.
Today – Constant innovation and expansion reduces rates – our customers' combined energy bills rank among the lowest of the nation's 20 largest cities – while serving over 880,000 electric customers and more than 360,000 gas customers.
CPS Energy commits millions of dollars to energy efficiency rebates and programs for our customers. Our Sustainable for Tomorrow Energy Plan (STEP) looks to reduce our community's demand for electricity by 771 megawatts (MW) – the output of a large power plant – by 2020.
As part of San Antonio's New Energy Economy, we're also investing in innovative technologies that will:
Help customers use energy more wisely and lower their bills
Create jobs and educational investments
Leverage valuable economic development opportunities for our community's future
Protect the environment
Our rich history continues...